Hello Visitor,
Did you know that over 10,000+ cannabis entrepreneurs, investors, and thought leaders will be TUNING IN LIVE to watch one online event this weekend (right from home):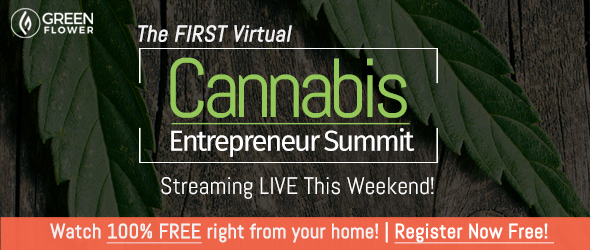 The Virtual Cannabis Entrepreneur Summit <<< Your Last Chance To Register FREE
Streaming LIVE all-day this Saturday and Sunday right to your computer, 30+ of the world's top leaders in cannabis will be sharing their greatest secrets on how to start, grow, or scale a thriving cannabis business today.
The best news is that you can watch the entire 2-day event, right from the comfort of your own home, 100% free, as long as you register NOW!
Click here to register now <<< Streams LIVE this Weekend for FREE
During the Summit, you'll see world-class experts talk about:
The future of cannabis and where the industry is going
Building a unique cannabis brand that truly stands out
Getting more distribution for your cannabis products
Little known business opportunities in Hemp
Where smart investors are putting their money
Creating unique cannabis products people buy
Attracting investors who actually write big checks
Licensing opportunities in emerging cannabis markets
Find your perfect niche in cannabis
Much more!
An event with this caliber of speakers would normally cost you $1,000 to attend, plus you'd have to pay for travel and accommodations on top.
But not with this! You can learn from the world's top entrepreneurs right from your own home, and it won't cost you a penny.
But you'll have to register NOW if you want to catch the main event <<< happening THIS weekend
If you're already in the industry, this Summit will show you how the most successful cannabis entrepreneurs built their empires, so you can achieve their success.
If you're not in the industry yet (but you'd like to be), this Summit will expose the greatest opportunities to enter this blossoming cannabis universe, so you can find your unique place today.
If you're an investor looking to make smart moves, or you're an entrepreneur looking to raise funds, you'll see how the brightest minds in the industry are approaching investment.
In essence, if you want to be a part of the fastest growing US industry that is cannabis, you should tune-in to watch some or all of Summit this weekend.
This is your last chance to register <<<< join us FREE right now
P.s. Green Flower has shared with us privately that there will be many unexpected surprises throughout the weekend you won't want to miss.
Tune in LIVE and join 10,000+ others this weekend at the Cannabis Entrepreneur Summit <<<
Regard,
The Team at InvestInMJ.com