Hello Visitor
The Canadian cannabis sector has been blazing hot over the last year, especially in the last 2 months. Companies like Organigram with a $143M market cap and Canopy Growth Corp. (Tweed) with a market cap that reached $440M during August 2016 have seen their share price rise significantly over the last few months. Can their stock prices continue to rise given the recent court ruling that medical patients can now grow for themselves again which is similar to the old MMAR program that Canada had until MMPR came into effect? Or will the stocks of licensed producers decline over the next six months?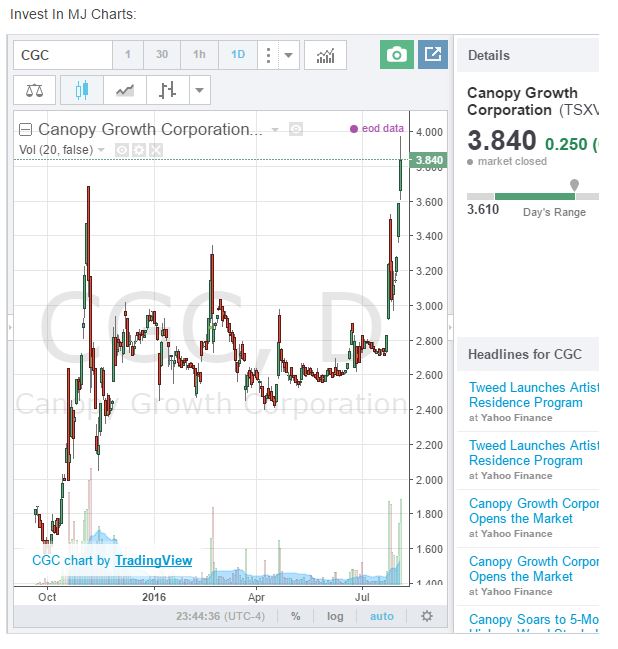 To current stock prices, technical charts and news on these and other commercial grower, please visit the company directory listing on our site at: http://www.investinmj.com/directory/growers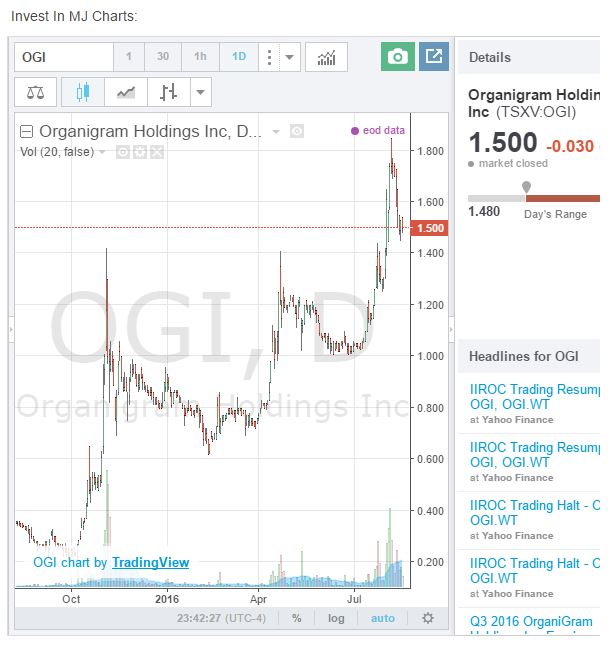 I suspect their share price will come down over the next few months and probably into tax selling season in December. If you have made any good profits in the last year with any of the publicly traded cannabis companies in Canada, you may want to take some money of the table and look to buy back into the sector after a correction and pullback. There is a chance some of the stock prices may continue to rise if the market is adding expectation about the recreational market opening up in 2017. However that expectation and rise should come after a much needed correction and base building. We are in the process of putting together a special report on the Canadian cannabis sector and opportunities that are available both public and private, as well as a couple of interesting franchise opportunities.
One of the licensed producers we have been looking at lately is Emblem Corp. This private company is a leading marijuana producer, which has the potential to generate over $100 million in revenue and is led by a team of Health Care & Pharma Executives who have built & run multi-billion dollar companies.
Emblem has a clear strategy across three verticals of marijuana production, patient education, and pharmaceutical production, they are uniquely positioned within Canada's large and growing medical and recreational marijuana industry. Emblem has a high quality, experienced management team who have aligned interests with shareholders by investing $6M and have a track record of building successful multi-billion dollar healthcare companies.
With a state-of-the-art production facility in Paris, Ontario up and running, Emblem has generated its first sale in August and plans to sell to the public by October. The company has a planned expansion that will allow for a total production capacity of up to 16,000KG annually.
The company's Pharmaceutical Division is led by John Stewart, ex CEO at Purdue Pharma, the largest private pharmaceutical company in the world. Under his leadership he developed and launched to market OxyContin, a $2 billion a year drug. His focus will be replacing chemically based opioids with natural based Medicinal cannabis.
After reviewing many marijuana producers, Emblem has one of the best management teams, a state of the art facility which I recently visited and a strategy which surely will make them a leading medical cannabis company. The company has the most blue sky potential with respect to production capacity, pharmaceutical capabilities, and one of the lowest cost indoor producers, I have seen in the sector.
The company is planning on going public this fall and they currently have a very reasonable valuation compared to the other publicly traded companies in Canada. The company is currently looking to raise $3M before the public listing and accredited investor have an opportunity to participate in the upside and own shares at reasonable valuations.
If you would like more details on Emblem and the financing, please contact us by email or Danny Brody from Emblem investor relations at 647-255-8106 ex 1810. If there is an expression of interest (EOI) and you want to know more about the Company, we will forward you the Investor Deck upon request. This opportunity is open to accredited investors in Canada and the US. You may also want to email: This email address is being protected from spambots. You need JavaScript enabled to view it. and request the full report on the Canadian Cannabis Industry, it should be available by mid-September.