Hello Visitor,
We wanted to provide our subscribers a market update and review the Canadian cannabis sector.
Overall, the cannabis sector is looking very healthy and the recent price action in September makes me believe the sector is going to revisit the highs placed earlier this year.
Taking a look at the Canadian Marijuana Index, the stock prices have broken out of their consolidation phase from this summer and will slowly march towards the highs from April when the index reached to about 350. The index had a low of 202 on July 11th and has risen 50 points since then. If trend continues we could see the next resistance at 270 and then just below 300. I think this is where index will go over the next few months before we see some December selling. By early next year I suspect the index will be reaching near the highs placed earlier this year and given that recreational marijuana will be available in Canada by the summer of 2018, the index could be at all-time new highs a year from now. I will explain my thoughts on the price action over the coming year in the next edition of Invest In MJ News.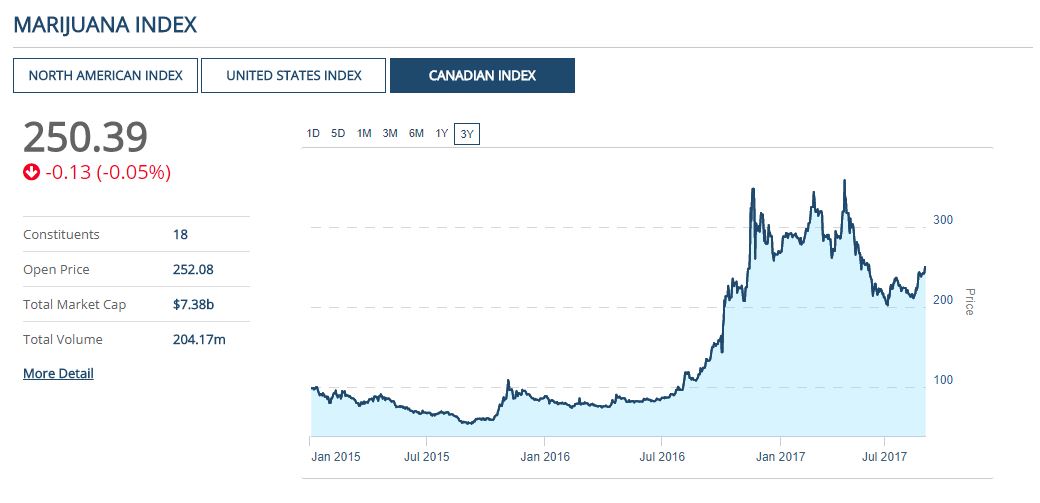 The Horizons Marijuana Life Sciences Index has also risen significantly starting in September. This is a great ETF to look at if you want a diversified approach to investing in the sector.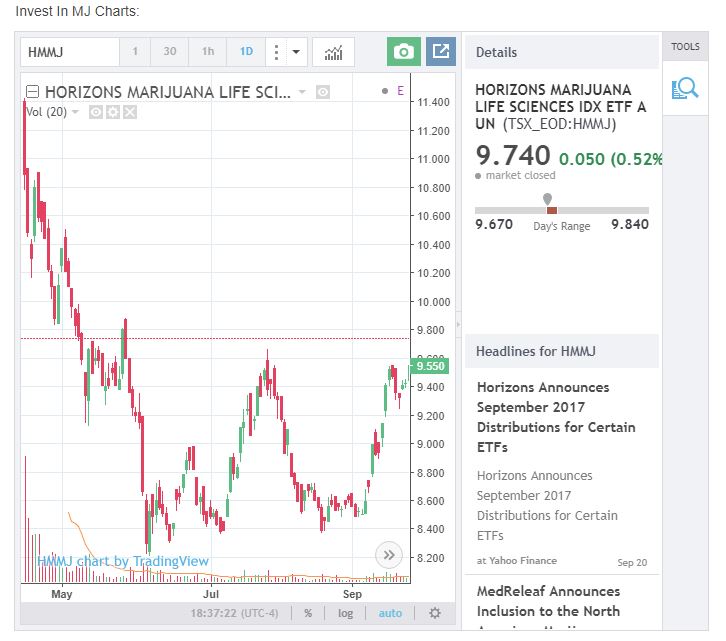 It looks like 2017 will be a record year for capital raises. The following chart is from Viridian Capital Advisors, they do an excellent job tracking all the cannabis deals, both private and public. It seems like the sector has raised $1 billion dollars so far, this is up significantly from $720M last year. The number of raises is already more than last year and the average raise in 2017 at $6.7 million is more than double last year's average. This just tells us there is a lot of interest in the sector and that trend will continue into 2018 and beyond.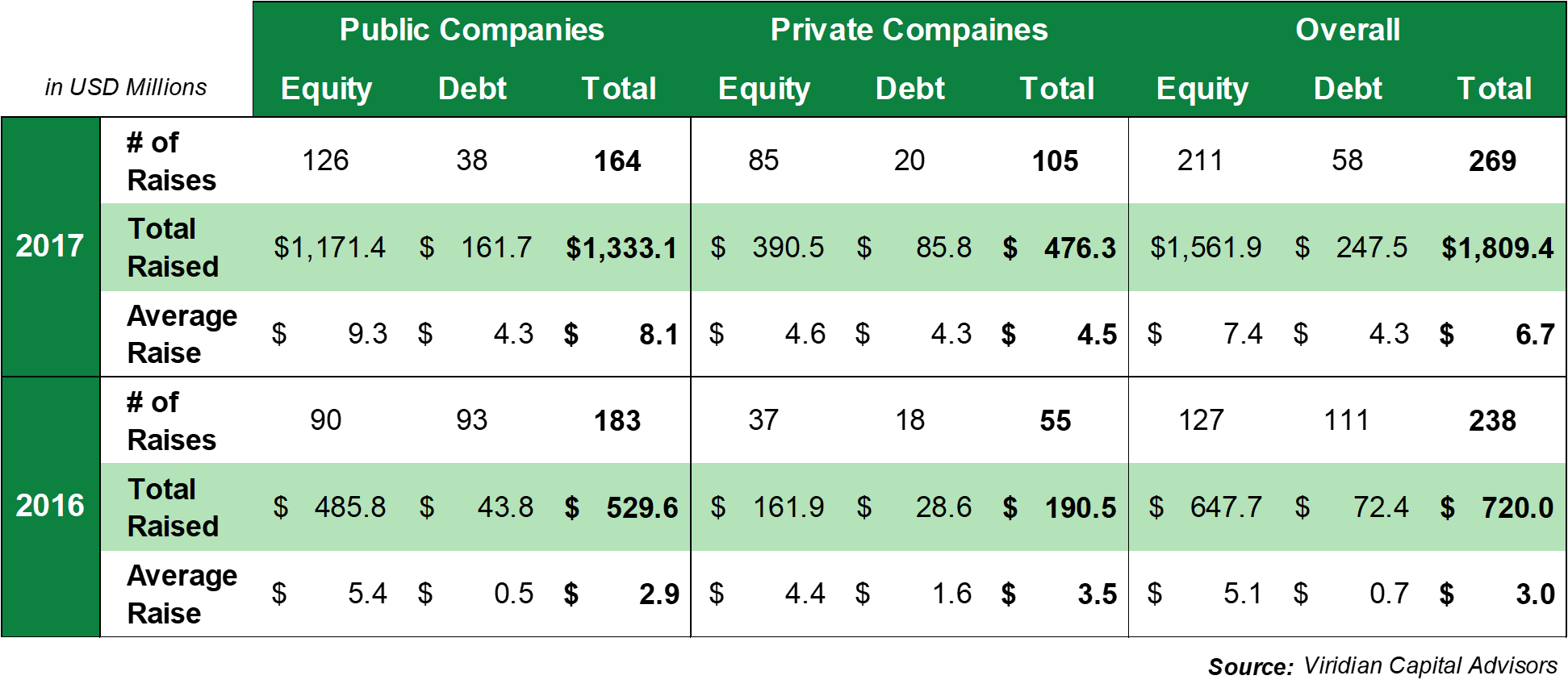 We recently provided our thought on the overall MJ sector and conducted a review of Emerald Health Therapeutics, you can read it on the Talk Markets website.
Latest Licenced Producer News.
Emblem Announces Exclusive Agreement with Canntab Therapeutics for Cannabinoid Based Oral Sustained Release Formulation
This is a company we have been following for over a year and this latest news release validates our thoughts and that they will be one of the leaders in the pharma side of the industry. Time release of Cannabinoids will be key in extended dosages over a period of time, Emblem now has an exclusive with Canntab for Canada. Hopefully we will follow up with the company soon and look at the implications of this agreement and what it could mean for the company and it's shareholders.
SUPREME CROSSES IMPORTANT REVENUE MILESTONE - OCTOBER 03, 2017
This is a company we are starting to look at and will provide our thoughts on them after some more due diligence. They footprint they have with their greenhouses could rival the current large scale LPs in terms of size and capacity to grow.
If you are close to Niagara Falls this weekend, you may want to attend the GrowUp Cannabis Conference and Expo on Oct 6th and 7th. I will be speaking on the investor panel Friday morning from 8 to 9 am. Use discount code "IIMJ2017" to save 20% on ticket prices.

Our media company Golden Tech Media recently launched CannabisConference.ca, we plan to share info and discounts on some of the best conferences, webinars and meetups around the world.
If you want to explore international business opportunities in the cannabis sector, you may want to attend the The First International Cannabis B2B Conference in the Heart of Europe, Euroam Cannabis Business Conference, it is followed by Cannafest in Prague. The conference and festival runs from Nov 8 to 12. Vin Maru from Invest In MJ will be attending and speaking at the conference.
If you are close to Toronto and want to attend a Meetup of like-minded people, the Cannavation Meetup will be in town on October 17 and we plan on attending, Vin Maru will also be speaking there.
Regards, The Invest In MJ Team.