Hello Visitor,
The Canadian Cannabis sector is still in a major uptrend and will most likely continue to rise well into 2018. Why? Canada will be the first G7 country to legalize Cannabis for recreational use for all of its citizens. The U.S. federal gov't which seems to oppress its citizens by endangering a plant and making it criminal for you to grow or sell a simple plant, let alone simple possession of marijuana can get you jail time in the land of the free.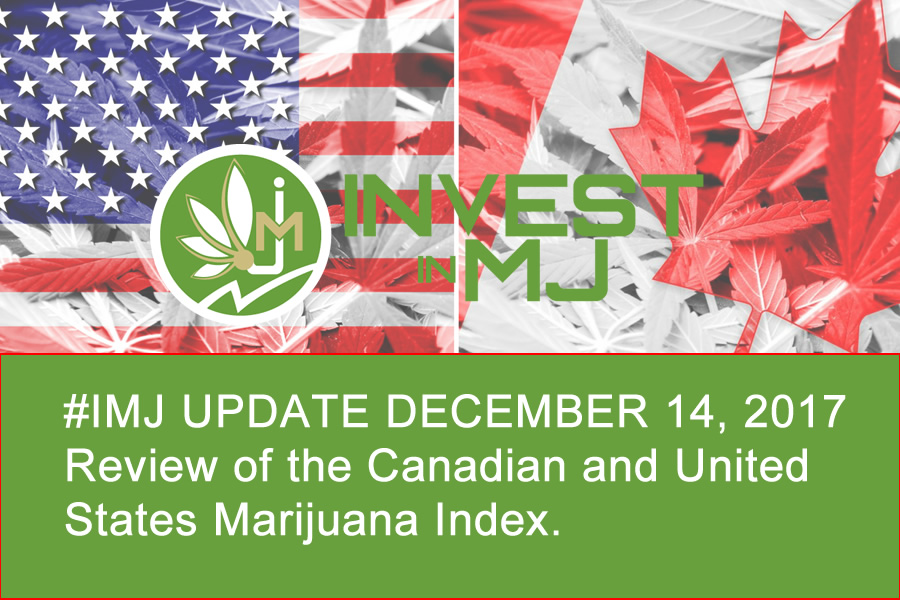 Unlike the oppressive U.S. Gov't, Canada has started relaxing its cannabis laws and will allow its citizens the choice to buy and consume cannabis from authorized Licensed Producers and soon to be authorized resellers. By the summer of 2018, "legal cannabis" will be distributed and sold throughout the country and will give the Canadian gov't the status of being the biggest legal organized Cannabis "Drug Dealer" status in the world.
While I am pro-decriminalization... seeing how Canada's new policy around cannabis and making it "legal" seems to be just another system of control and really doesn't benefit the cannabis community in any meaningful way. Yes, we may be allowed to consume cannabis legally in the coming year, but only if you don't break any of the new laws and regulations that the gov't will be putting in place around cannabis use. I guess at the end of day, this is progress and Canada will be in the spotlight next year for having a legal cannabis market.
All this is great for the cannabis investor in the Canadian' cannabis sector, 2018 should be a great year as we move towards legalization and there is probably still more upside potential investing in Canadian Licensed Producers.
The chart below shows the performance of the Canadian sector as measured by MarijuanaIndex.com (https://marijuanaindex.com), in this Index they track 18 cannabis companies in Canada.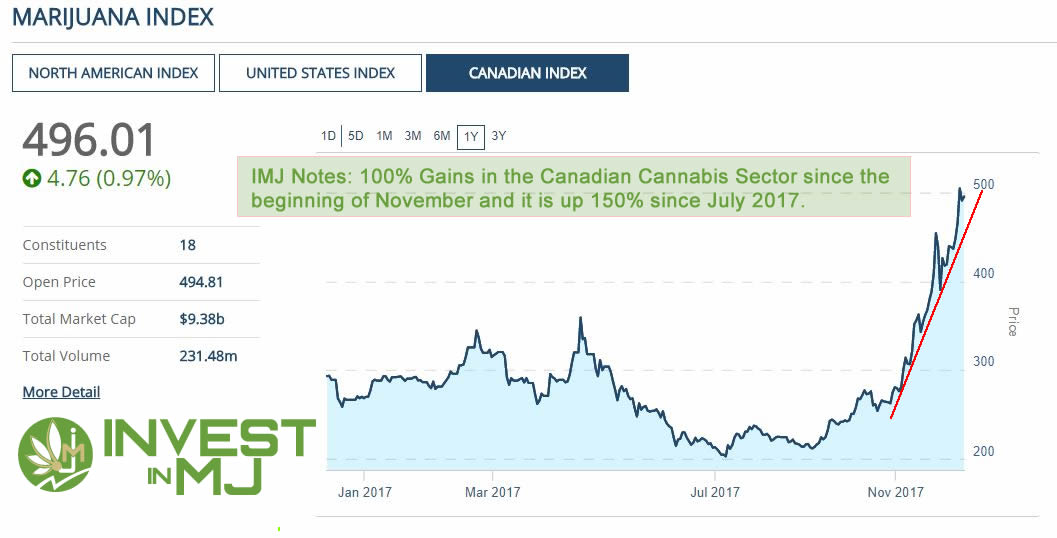 There have been 100% Gains in the Canadian cannabis sector since the beginning of November and it is up 150% since July 2017. While it can't compete with many Crypto Currencies and ICOs, the Canadian MJ sector is outperforming most other investable sectors in North America.
Here is a list of the companies in the Canadian Marijuana Index: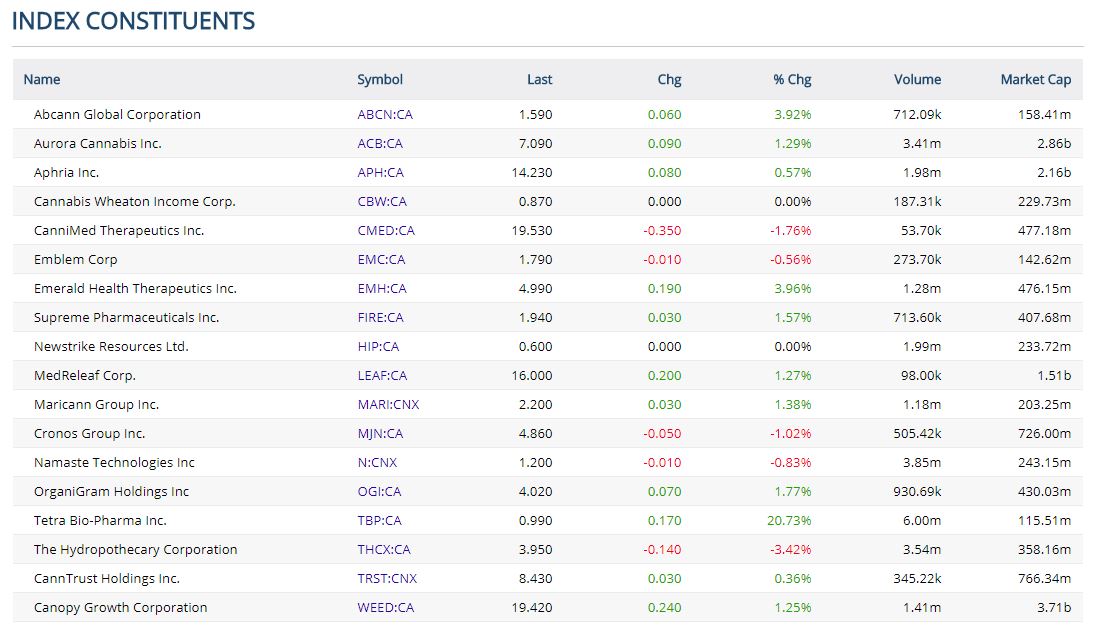 You can find more info on individual Canadian Licensed Producers, stock charts and company info from our #IMJ Growers Company Directory(http://www.investinmj.com/directory/growers).
The Canadian cannabis sector trend is still up and most likely will remain that way going into the summer of 2018 when Canada will have legal recreational Cannabis and the excitement around the sector will be seen everywhere within the country and around the world. There will be lots of people talking about marijuana investing and looking at the Canadian markets because we have a legal framework for cannabis and we have mature financial markets when it comes to cannabis stock investing. Of course, by the fall of 2018, we could have a mania in marijuana stocks and that might be a great time to sell into that strength and start taking some profits and then look at some other undervalued sectors or opportunities that have much greater upside.
The chart below shows the performance of the US Marijuana Index, it has clearly lagged the Canadian Index but has been rising in the last month. With some States like California legalizing recreational cannabis, certain investments in those States may rise significantly, but overall investing in the companies in this index will most likely underperform Canada's MJ sector.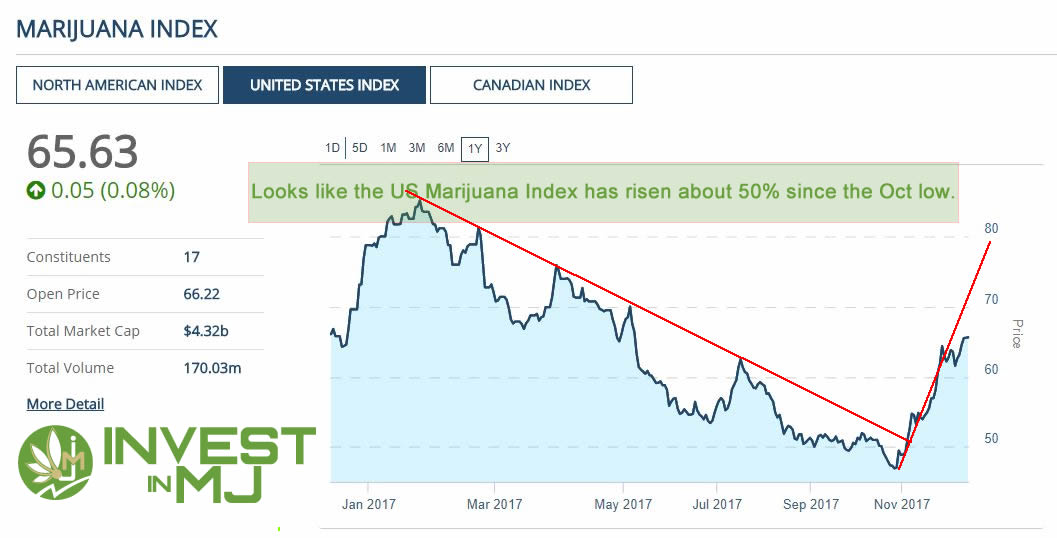 Here is a list of the companies in the United States Marijuana Index: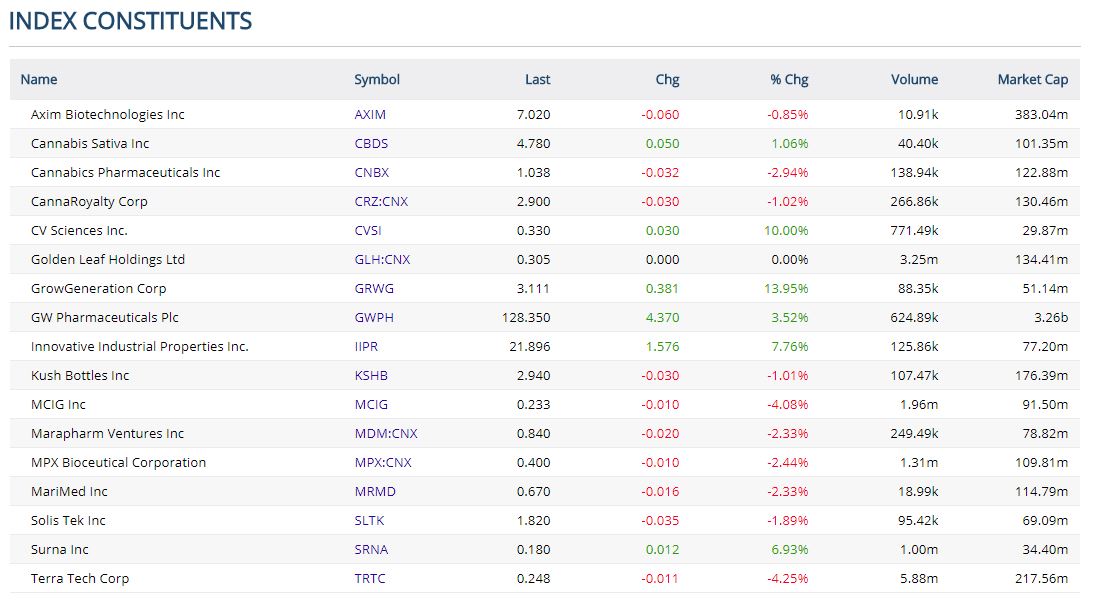 There are quite a few reasons why I don't focus too much time on the U.S. cannabis sector and companies. The main one being is that it is still federally illegal, and as a result, investors are still reluctant to invest in US cultivation companies because they are still private and can't be put into publicly traded companies. There are some ancillary companies trading on the OTC, but for the most part, it is very difficult to invest in public companies growing cannabis in the U.S., you can thank the US gov't for that. I do believe that the US cannabis stock sector will continue to gain upward momentum next year, but maybe not at the same pace as the Canadian sector and companies.
Many of the US companies are financing their operations by raising capital in Canada's and getting listed on the Canadian stock exchanges. Because of this, many US investor may find it more difficult to invest in US opportunities unless their broker can get them access to the Canadian exchanges or the public companies get a dual listing to include the OTC exchange. Like with many things including Crypto Currencies, the United States government has limited their citizen's ability to invest in sectors with huge growth. Their need for controlling and punishing the populace seems to be greater than Canada when it comes to cannabis, the financial control they impose around the world make them almost like financial terrorists.
For more information, news, investing options and opportunities in the Cannabis sector, visit (http://www.investinmj.com/) and join our News Letter.

Feel free to connect with me on LinkedIn (https://www.linkedin.com/in/vinmaru/) or join our Invest In Marijuana group on LinkedIn (https://www.linkedin.com/groups/8104934) with almost 2000 members. You can also follow @InvestingInMJ on Twitter which has over 10,000 followers or you can find us on many other social media platforms like Facebook (https://www.facebook.com/InvestInMJ), YouTube, and Pinterest.
I am now also on STEEMIT.COM, the social media platform that pays for good content. If you are on Steemit too, please follow us there.
We just started the Cannabis Internet And Blockchain Group On Linkedin, join the discussion or share your thought on Cryptocurrencies and Blockchain solution for the Cannabis Industry.
Cheers
Vin