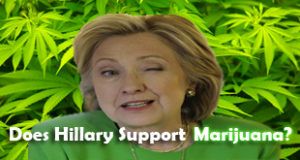 Democratic presidential nominee Hillary Clinton spoke out against legalizing marijuana in a paid speech, hacked emails from her campaign show.
During an on-stage Q & A session with Xerox's chairman and CEO in March 2014, Clinton used Wall Street terminology to express her opposition to ending cannabis prohibition "in all senses of the word":
URSULA BURNS: So long means thumbs up, short means thumbs down; or long means I support, short means I don't. I'm going to start with — I'm going to give you about ten long-shorts.
SECRETARY CLINTON: Even if you could make money on a short, you can't answer short.
URSULA BURNS: You can answer short, but you got to be careful about letting anybody else know that. They will bet against you. So legalization of pot?
SECRETARY CLINTON: Short in all senses of the word.
The excerpt comes from an internal Clinton campaign memo highlighting potentially problematic passages from her paid speeches to Goldman Sachs, General Electric, Deutsche Bank and other major corporations.
Other excerpts from the 80-page document, published by Wikileaks after a hack on Clinton campaign chairman John Podesta's email account, show the former U.S. secretary of state admitting she is "far removed" from the struggles of the middle class, arguing that politicians need to have separate positions on issues in public and in private and supporting "open trade and open borders."
Over the course of the past year, the Clinton campaign forcefully refused calls to release the speech transcripts from her Democratic primary opponent, U.S. Sen. Bernie Sanders, who supports legalization and has introduced legislation to end federal marijuana prohibition.
That the campaign flagged the candidate's opposition to legalization as a potential problem demonstrates a growing understanding by political operatives that marijuana law reform is now a mainstream issue, one which is supported by a majority of Americans and a supermajority of Democratic primary voters.
While Clinton has made no secret in public appearances that she isn't ready to endorse full legalization, she has usually framed her position as taking a wait-and-see approach, wanting to give laws like those in Colorado and other states a chance to work before she makes up her mind about ending prohibition.
The leaked Xerox excerpt, in contrast, positions her as strongly opposed to legalization.
But the remarks were made two-and-a-half years ago, just two months after legal marijuana sales began in Colorado, so it is possible that Clinton's personal view of legalization has legitimately softened in the interim.
During the course of her presidential campaign, Clinton has highlighted support for letting states set their own cannabis policies without federal interference and has pledged to reschedule marijuana under the Controlled Substances Act if elected.
But advocates have pushed the candidate to go even further by offering a personal endorsement for the policy of legalization, arguing that doing so could help Clinton win back support from wayward millennial voters who are supporting Libertarian Party candidate Gary Johnson or Jill Stein of the Green Party, both of whom have made support for ending cannabis prohibition centerpieces of their campaigns.
The newly-leaked documents showing Clinton's strong opposition to legalization in a private appearance, combined with comments from the candidate's daughter Chelsea last month implying that marijuana use can lead to death, could present an added sense of urgency for Clinton to evolve on the question of ending prohibition prior to Election Day.
Original Article BY TOM ANGELL ON OCTOBER 10TH, 2016 AT 11:18 AM | UPDATED: OCTOBER 10TH, 2016 AT 11:28 AM LAW & POLITICS, PEOPLE,