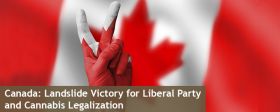 Contributed to The Globe and Mail - Published Monday, Nov. 02, 2015 5:00AM EST
Anthony Wile is chief editor of the economic and investment newsletter The Daily Bell and chief investment strategist of High Alert Investment Management.
The election of Justin Trudeau's Liberals has had an immediate impact on the investment marketplace, with a rush to invest in the handful of publicly traded Canadian medical marijuana startups – all on the promise of legalization of recreational marijuana use.
However, as with any burgeoning new industry, including the Canadian cannabis industry as it "whitens" from its previous black-market status, investors considering directing their capital there may want to take a temporary respite from hitting the go button.
Investors who make assumptions today about what may be profitable tomorrow will likely find their wallets considerably lightened by a changing set of regulatory circumstances.
While a legalized cannabis industry means a substantial increase in potential profitability for the industry leaders already invested in the marketplace, for all investors the key questions are: What will that new landscape look like? How will the industry be regulated, structured and taxed? And, most importantly for the new or individual investor – how best to navigate the marketplace?