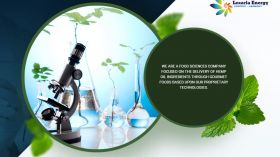 Kelowna, BC / August 24, 2015 / Lexaria, Corp. (OTCQB:LXRP) (CSE:LXX) (the "Company") is very pleased to announce potential industry-changing achievements in enhanced gastro-intestinal absorption of cannabidiol (CBD) utilizing Lexaria's patent pending technology. The recent thirdparty testing was conducted in two phases of in vitro tests beginning in June and completed in August, 2015.
The independent laboratory results have delivered average CBD permeability of 499% of baseline permeability, compared to CBD permeability without Lexaria's technology. These results exceed Company expectations.
This was assessed in a strictly controlled, in vitro experiment using a human intestinal tissue model. Samples of Lexaria's commercially available CBD-fortified ViPova™ black tea were administered in the model compared with concentration-matched CBD control preparations that lacked Lexaria's patent-pending formulation and process enhancements. Lexaria believes that its in vitro findings provide compelling evidence of the intestinal absorption enhancing capabilities of its technology, based on which it is exploring opportunities to progress to more advanced, follow-on bioavailability testing in animals.