09:30 AM - 10:00 AM Track 1 - Vin Maru from Invest In MJ (#IMJ) - General discussion on the outlook for the Marijuana Industry, legalization in Canada and the opportunities for investors.
10:00 AM - 10:45 AM Track 1 - Raise Company Presentations by various Marijuana related companies.
Vin Maru Investing in MJ (#IMJ) Outlook & Opportunities, Fundamental and Technical Analysis, Review of Licensed Producers, Company Valuation, Private Company Opportunities, Panel Discussion 
Click here to Register and Attend

Below is the MJ Index chart for Canada that we sent out to news letter subscribers in Mid October, it shows a clear break out and we believe the next leg of the bull market in the Cannabis sector has started.  
In the news letter, we stated the following:
The stock prices of these companies may continue to rise in the short term, however any correction into the fall and in December should be bought as we are very bullish on the MJ sector for the remainder of this year and over the next 2 – 5 years, this is just the beginning of the next major advance that the sector and stocks will make.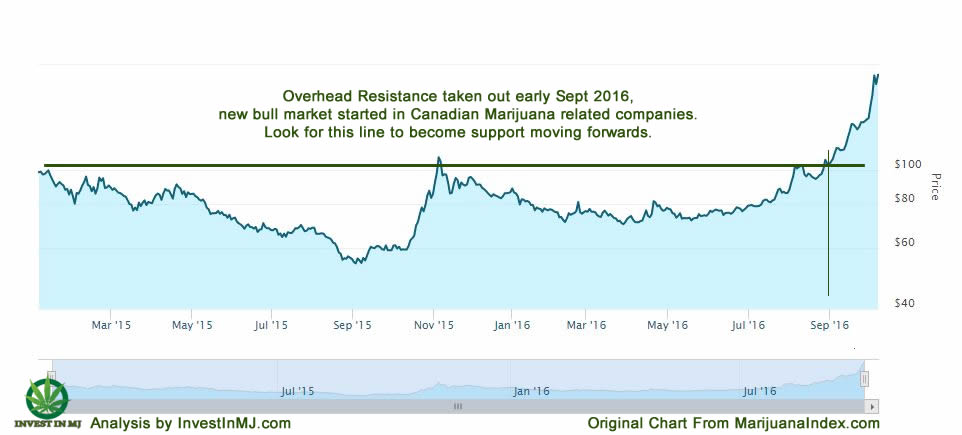 JOIN Invest In MJ (#IMJ) at the Raise At The Grey Cup 2016 Conference and learn why the Cannabis sector will remain in a bull market for many years to come and how you can participate in the upside potential for many of the public and private companies that are leaders in the sector.
At the conference we will review, provide our research and discuss the following:
Discuss the fundamentals for the sector and why the bull market will remain for the next 3-5 years.
Apply technical analysis to company stock charts, where we are in the cycle using Elliot waves, the short term and long term trading opportunities.
Provide our outlook for the industry and companies.
Review licensed producers on a comparative basis.
Discuss funding and financing opportunities with Private Companies, Pre-IPO or Publicly Traded Companies and potential for Franchising.
Reveal several of the best Private Equity Financing Opportunities we have discovered recently and their upside potential for early investors.
Create your own investing strategy short term and long term.