Hello Visitor,


Invest In MJ News (#IMJ) Update for March 15 2017
As we mentioned a few days ago, we are in a healthy correction in the Cannabis sector for stock price and valuations. In Canada, the valuations of the licensed producers have gotten way ahead of itself over the last few months; they should start to build a base during the summer before moving higher going into fall and winter of 2018.
Looks like the sector will move sideways for some time, this creates a good trading opportunity, new entry points for new positions or adding to existing positions.
One of the companies we provide coverage on is Emblem Cannabis, the chart below is some initial technical analysis we provide as part of our research. You can view updated price charts and company info on Emblem from our company directory listing for them.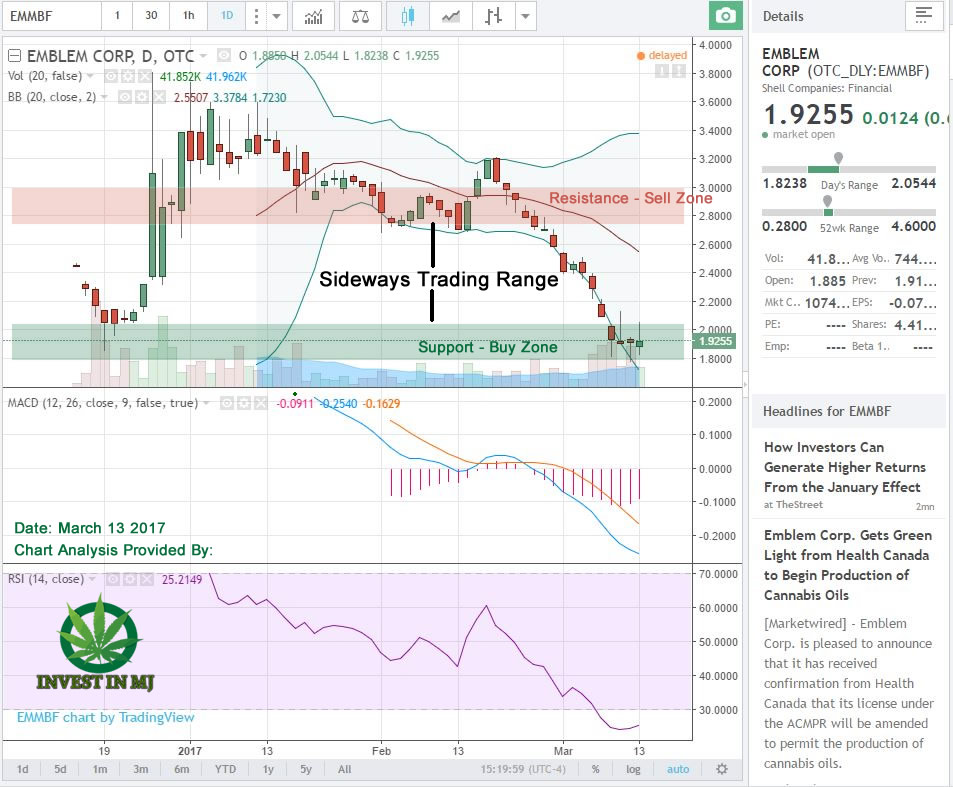 We believe that the stock price has come down to a favorable entry point if you are looking to add to positions or start a new one. The MACD and RSI indicators are close to extreme lows, this is a good time to accumulate shares, when the indicators are extremely high, you want to be selling. As for a trading range, look to enter positions under $2.00 US and sell above $2.60 US, if we get a $0.60 swing trade from the stock you and make an additional 23% over the next few months.
Most of the selling we are seeing in the last few days on Emblem is mostly coming from people who bought the October financing at $1.15. Their shares are now free trading and since many of the have profited from their purchase in the financing, some are now taking profits. Once their selling is done and the excess supply of share is cleaned up by stronger hands, we believe the stock price will most likely rise as new buyers will overcome the recent sellers.
When looking at the last financing, the company offered a special warrant financing at $3.63, back in January, see press release for details. We think its a good idea to buy below the last financing offering price, so now Emblem stock is at a great entry point. If you have access to the Canadian markets, there are warrants trading on Emblem, you may want to consider buying and trading the warrants as they have a cheaper price for acquisition for the warrants versus the actual shares. The symbol for the warrants are EMC.WT on the TSX Venture, last we checked it was trading at $1.20-$1.25.
Our company directory listing provides detailed information on various publicly traded companies including price charts. You are welcome to use the charting tool and perform your own technical analysis to the price action of the company's stock.
Regards,
Vin Maru, Editor at Invest In MJ
Latest Company Financing News:
Organigram Announces Issuance of Stock Options
MONCTON, NEW BRUNSWICK--(Marketwired - March 14, 2017) - Organigram Holdings Inc. (TSX VENTURE:OGI)(OTCQB:OGRMF) ("Organigram" or the "Company") announces that it has issued an aggregate of 1,500,000 incentive stock options to Greg Engel, a director of the Company and the Company's Chief Executive Officer, at an exercise price of $2.36 per share. View Company Directory Listing on #IMJ
Kitrinor Metals Inc. and Scythian Biosciences Inc. Announce Closing of Subscription Receipt Financing of $13,085,000 With Strategic Lead Investment From Aphria Inc.
Scythian Biosciences Inc. is developing a proprietary Cannabinoid combination therapy for the prevention and treatment of concussions and traumatic brain injury
TORONTO, ONTARIO--(Marketwired - March 14, 2017) - NOT FOR DISSEMINATION IN THE UNITED STATES OR FOR DISTRIBUTION TO U.S. NEWSWIRE SERVICES
Further to the press release dated February 21, 2017, Kitrinor Metals Inc. (TSX VENTURE:KIT) (the "Company") and Scythian Biosciences Inc. ("Scythian"), a company incorporated under the federal laws of Canada, are pleased to announce that Scythian completed an initial tranche of a brokered private placement offering of subscription receipts ("Subscription Receipts") led by Clarus Securities Inc. (the "Lead Agent"), together with Haywood Securities Inc. and Canaccord Genuity Corp. (collectively, the "Agents"), for gross proceeds of C$13,085,000 (the "Offering").
GrowGeneration Secures $1,650,000 in Capital From Merida Capital Partners to Continue to Fuel Growth
DENVER, CO--(Marketwired - March 14, 2017) - GrowGeneration Corp. (OTCQB: GRWG)
METATRON (OTC PINK: MRNJ) Announces $1,000,000 Reg A Capital Raise to fund Cannabis & Vaporize, a Secure Chat App
DOVER, DE--(Marketwired - Mar 14, 2017)
Data below tracked by Viridian Capital Advistors
Summary for the Week Ended March 10, 2017
• Announcements: 22
Capital Raises: 9
M&A Transactions: 10
Joint Venture: 1
Capital Raise & New Stock Listing: 1
New Stock Listing: 1
• Year-over-Year:
8 capital raises closed this week for a total of $38.8 million ($4.8 million average) compared to 7 raises closed for a total of $5.9 million ($0.8 million average) this week last year.
3 M&A deals closed this week compared to 1 deal closed this week last year.
• We have tracked over $300 million in capital raises closed by cannabis companies year-to-date, with the top sectors being:
Cultivation & Retail: $167.9 million
Investments/M&A: $40.6 million
Consulting Services: $37.5 million
• M&A activity in Investments/M&A sector follows trend of accelerating M&A activity in overall cannabis sector:
We tracked an average of 1.4 deals closed per week in the first three quarters of 2016 compared to 3.2 deals closed per week from the start of the fourth quarter of 2016 to date in 2017.

Capital Raises
• Cronos Group, Inc. (TSXV: MJN) closed a C$17.3 million bought deal public offering for expanding capacity, purchasing equipment, making investments, paying contractual obligations, and working capital.
• Namaste Technologies, Inc. (CSE: N) closed a C$11.3 million bought deal private placement for the acquisition of Australian Vaporizers PTY Ltd. and for working capital and general corporate purposes.
• Alternate Health Corp. (CSE: AHG) closed a non-brokered private placement for C$7.6 million for continued acquisition and investment activities in the medical cannabis industry as well as for general working capital purposes.
• GrowCo, Inc., a private subsidiary of Two Rivers Water & Farming Company (OTCQB: TURV), closed a $5.0 million debt raise to continue building out its marijuana grow campus in Pueblo County, Colorado and for operating capital for GrowCo.
• Newstrike Resources Ltd. (TSXV: NR) closed a C$3.1 million private placement for subscription receipts in connection with a proposed business combination with HPI Holdings Ltd., a company engaged in medical cannabis cultivation in Ontario, Canada.
• Surna, Inc. (OTCQB: SRNA) closed a $2.2 million private placement for sales expansion and strategic growth.
• Future Farm Technologies, Inc. (CSE: FFT) closed a C$2.1 million non-brokered private placement for strategic acquisition purposes.
• Cronos Group, Inc. (TSXV: MJN) invested C$1.1 million into Whistler Medical Marijuana Corp., a licensed producer of medical cannabis in Canada, to maintain its current equity position.
Summary of Year-to-Date Transactions
Capital Raises
• We have tracked 66 capital raises totaling $301.5 million.
• Public versus Private:
o Public companies: 48 raises totaling $281.9 million
o Private companies: 18 raises totaling $19.6 million
• Equity versus Debt:
o Equity: 50 raises totaling $273.5 million
o Debt: 16 raises totaling $28.0 million