Invest In MJ Ad Agency
Are you interested in advertising on the Invest in MJ site to attract new customers, business and increase sales?  We love to help you get more exposure.
If you have a product or service related to the Marijuana industry, then you can place an add on our site and once approved, you will get additional exposure for marketing your marijuana goods and services.
Invest In MJ Ad Agency is an extremely powerful and scalable advertising solution which brings the best innovations in online advertising to the Marijuana and Cannabis industry. Other advertising systems like Google AdWords, Facebook and LinkedIn Ads work well for a general advertising campaign, but ads on the Invest In MJ site are targeted towards investors, community members and the general public.
With Invest In MJ Ads, you can be setup in minutes and start creating awareness for your products and services related to marijuana, cannabis and hemp. With an easy to use and super intuitive interface, you can get your Ad designed and placed on the site very quickly. We offer flexible targeting options and quick checkout flow which ensures that your ads are running quickly and effectively so you maximize your marketing budget.
Our advertising management system is extremely flexible with Ad display options using customisable zones and Ad layouts, this way you can best utilize your Advertising real estate.
In the near future we will allow for Ads in our newsletter email which ensures Ads also reach to people who are not frequent site visitors. With our Ad management system, you will be able to manage remote Ad delivery to any of our affiliate marijuana related sites so your Ads get deliver on many Cannabis sites.
Invest In MJ Ad Agency gives power to the Advertisers by letting them chose from an array of Ad targeting options like Geolocation Targeting, Demographic or Social targeting as well as Keyword targeting. This greatly improves and advertisers ROI, helps extent your marketing budget and gain exposure on multiple sites all on one management platform.
MJ Ads offers the traditional pay per Ad model with the ability to pay per click, per impression and per day OR with the ability to Pre Pay and run Ad campaigns on a per impression or per click mode till the balance runs out.
Looking to get your ads on the top MJ Social Community network? You add will also be displayed to the Invest In MJ Social Community and targeted to various groups and community members. 
Looking for a broader audience? Our Ads management system allows you to expand and maximize your marijuana, cannabis and hemp advertising campaign by setting up untargeted Ads. These ads will be shown to everyone including guests.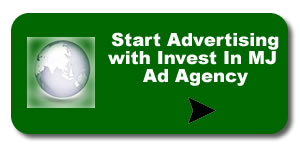 Start Advertising on Invest In MJ