Invest In MJ provides coverage on the best private placement opportunities and deals for accredited investors in the medical marijuana/cannabis industry. Learn why getting invested in private placements at the early stages of a marijuana-based company can reward shareholders as the industry continues to become legalized for medical use.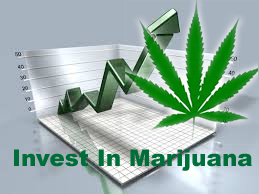 This is an exciting time to be an accredited investor in the medical marijuana/cannabis sector and you should take the opportunity to evaluate private placements while they are available during the early stages of financing required by these companies. The big fund managers have yet to enter the marijuana industry and many at the moment are reluctant to invest in private placements because of the lack of uncertainty around rules and regulation by the U.S. Federal Government. Once the big fund managers are given the green light to start investing in this sector, these early investors will benefit from the sector's growth and the share prices will rise with additional buying pressure coming from funds. Once that happens the market caps will rise to a point where the fund managers will be in a position to start getting invested in the marijuana sector.
The key to investing in the MJ space is to identify several different companies which stand out above the rest, get invested early enough (especially now that many of the company's stock price have corrected) and then wait for the broker and institutional money to start aggressively buying the sector.
As an accredited investor in the Cannabis industry, you will come across many opportunities with companies looking for funding, a key success for any company is their approach to acquiring customers and plans for retention. We have spoken with many companies who are licensed producers and applicants under MMPR, and only a few have a well-defined customer intake/retention strategy from the beginning. Most are hoping to acquire customers with a "build it and they will come" strategy.
We are at the early stages (as of early 2014) of this industry and with over 800 applicants sitting with Health Canada hoping to get a producer's license, we feel that the hardest driver of success will be the company's strategy for acquiring and retaining customers. So one major contributing factor to choosing an investment in the medical marijuana industry is to choose a company with a great strategy that is executable. While the number of authorized producers should increase over time, there will be a small number of relatively niche producers (small scale and with few varieties) that will be quite successful. The companies that can retain the right customer, build a strong consumer brand with limited marketing tools and excel at customer service should do quite well over the next 3-5 years.
Canada and the United States have specific guidelines as to who is considered an accredited investor. Please read an overview of what the Accredited Investor Guidelines are for your specific country to see if you qualify for any Marijuana, Cannabis or Hemp related private placements. Also remember, any investment in private placements do come with some risk, please consult your financial advisor before making any investments in any of these marijuana-related private placement investment opportunities.

Interested in marijuana or cannabis-related franchise opportunities, we help introduce business entrepreneurs to find the right MJ Franchise for them, or help existing MJ related franchises get exposure to potential investors or franchisees.
Invest In MJ Accredited Investor News Letter
Sign up for our newsletter solely for accredited investor and get
information on the latest and best private placement offerings
and news in the marijuana and cannabis industry.
Please consult your own legal and investment advisor before making any investment decisions. Invest In MJ and its founders may be compensated for helping introduce accredited investors to any of these private placement deals. Please read our Legal Disclaimer below before requesting information.
Legal Disclaimer
Information contained in the Invest In MJ Emails or on the Invest In MJ website (www.InvestInMJ.com) is obtained from sources believed to be reliable, but its accuracy cannot be guaranteed. The information contained in such publications is not intended to constitute individual investment advice and is not designed to meet your personal financial situation. The opinions expressed in such publications are those of the publisher and are subject to change without notice. The information in such publications may become outdated and there is no obligation to update any such information.
The information presented by the companies listed in our directory is provided by the company themselves or their investor relations firm. Invest In MJ is not responsible or liable for the accuracy of the information provided by these companies. We may have been compensated by the companies to get listed on our site, for paid advertising or any other investor awareness services. Invest In MJ reserves the right to cancel a company listing at any time and a portion of the listing fees may be returned. Our analysts or employees of Invest In MJ may from time to time have positions in the companies, securities or commodities covered in these publications or web site.
By reading this disclaimer you will not hold responsible any person associated with Invest In MJ responsible for any losses that may occur now or in the future from investment decisions you make by reading this content or information provided. This information is solely educational informational and not intended to offer any financial advice whatsoever. Please consult your personal investment advisor before making any investment decisions based on any research or information Invest In MJ publishes. Performance returns cited are derived from estimates and any potential returns must be considered hypothetical. We are offering ideas for your consideration and education. We are not offering financial advice. Our staff and research analysts are not a financial or investment advisers, they will not be held liable for any financial loss you may incur. Investing in any company comes with risk, be prepared to loss some or all of your money, however the gains can be just as rewarding.
Any Invest In MJ publication or web site and its content and original images, as well as all copyright, trademark and other rights therein, are owned by Invest In MJ . No portion of any Invest In MJ publication or web site may be extracted or reproduced without permission of Invest In MJ. Unauthorized use, reproduction or rebroadcast of any content of any Invest In MJ or web site, including communicating investment recommendations in such publication or web site in any manner, may be prohibited and shall be considered an infringement and/or misappropriation of the proprietary rights of Invest In MJ.
Invest In MJ reserves the right to cancel any news letter subscription at any time, and if it does so it will promptly refund to the subscriber the amount of the subscription payment previously received relating to the remaining subscription period. Cancellation of a subscription may result from any unauthorized use or reproduction or rebroadcast of any Invest In MJ publication or website, any infringement or misappropriation of Invest In MJ proprietary rights, or any other reason determined in the sole discretion of Invest In MJ.